Letter Carriers Union and food banks join forces for 22nd annual food drive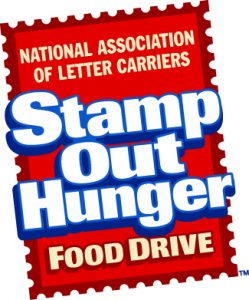 INDIANAPOLIS ― Letter Carriers from across Indiana will help to Stamp Out Hunger on Saturday May 10th, as a part of their 22nd annual food drive benefiting the state's food banks.
In its 22nd year, the Stamp Out Hunger food drive benefits local food banks and shelters through a partnership with Feeding America, the nation's largest domestic hunger-relief organization. Last year, letter carriers collected more than 74 million pounds of food feeding an estimated 30 million people nationally. Over the course of its 21-year history, the drive has collected more than one billion pounds of food.
"Our letter carriers are on the streets and in the community every day and they see firsthand how families are struggling to put food on the table," said John Tripplett, president of  the Indiana NALC, "These are not only our customers, they are our neighbors and friends, and we are proud to help in this worthy effort."
The need for food donations is urgent. In Indiana, more than 1 million Hoosiers are unsure of where their next meal is coming from and nearly 346,000 children, while nationally 49 million Americans—1 in 6—are food insecure.
"The timing of this food drive is crucial," said Emily Weikert Bryant, executive director of Feeding Indiana's Hungry.  "Food banks and pantries receive many donations during the holiday season. By spring, supplies begin to run low at a time when we need to gear up for summer, when children don't have access to school breakfast and lunch programs and may not access summer feeding programs."
To participate in the 22nd Stamp Out Hunger food drive in Indiana, residents are encouraged to leave a sturdy bag containing non-perishable foods, such as canned soup, canned vegetables, pasta, rice or cereal next to their mailbox prior to the time of regular mail delivery on Saturday, May 10. Hoosier letter carriers will collect these food donations as they deliver the mail and take them to regional food banks and emergency food relief agencies.
Feeding America provides food assistance to 37 million Americans every year. According to Feeding America, one in eight Americans rely on the organization for food and groceries, and the organization distributes 3 billion pounds of donated food and grocery products annually.  Member food banks of Feeding Indiana's Hungry, Inc. distributed 80 million pounds of food in 2013 through nearly 1,700 agencies across Indiana.
For more information about the annual Stamp Out Hunger food drive, visitwww.facebook.com/StampOutHunger, and follow the drive atwww.twitter.com/StampOutHunger.
Member food banks of Feeding Indiana's Hungry receiving food from the Stamp Out Hunger drive are:
Food Bank of Northwest Indiana, Gary
Food Bank of Northern Indiana, South Bend
Food Finders Food Bank, Inc., Lafayette
Second Harvest Food Bank of East Central Indiana, Inc., Muncie
Gleaners Food Bank of Indiana, Indianapolis
Terre Haute Catholic Charities Foodbank, Terre Haute
Hoosier Hills Food Bank, Bloomington
Tri-State Food Bank, Inc., Evansville
Dare to Care Food Bank, Louisville, KY
Freestore Foodbank, Cincinnati, OH
# # #
About the National Association of Letter Carriers (NALC)
The 280,000-member NALC represents letter carriers across the country employed by the U.S. Postal Service, along with retired letter carriers. Founded by Civil War veterans in 1889, the NALC is among the country's oldest labor unions.
About Feeding America 
Feeding America is a nationwide network of more than 200 food banks that leads the fight against hunger in the United States. Together, we provide food to more than 37 million people through 61,000 food pantries, soup kitchens, and shelters in communities across America. Feeding America also supports programs that improve food security among the people we serve; educates the public about the problem of hunger; and advocates for legislation that protects people from going hungry. Individuals, charities, businesses and government all have a role in ending hunger. Donate. Volunteer. Advocate. Educate. Together we can solve hunger.