Feeding Indiana's Hungry events will register voters at Indiana food banks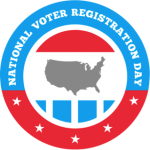 Today, Americans will celebrate National Voter Registration Day with a massive 50-state effort to register voters before the next election.
With important local and state elections in 2018 only months away, every eligible American voter should exercise his or her right to be heard at the ballot box. National Voter Registration Day is the right place to start by getting registered. As a nonpartisan "holiday" for democracy, National Voter Registration Day counts on thousands of partners and volunteers across the political spectrum as well as nonpartisan nonprofits like Feeding Indiana's Hungry.
"Although Indiana's next election is not until 2018, it's important for every Hoosier to register to ensure their voice is heard. As a nonprofit representing anti-hunger service providers, we feel it's important to assist our clients so that they're able to participate in our democratic process," said Emily Weikert Bryant, executive director of Feeding Indiana's Hungry.
Partner organizations will coordinate hundreds of National Voter Registration Day events nationwide and leverage #NationalVoterRegistrationDay on all social media platforms to drive attention to voter registration. Events can be located by visiting https://nationalvoterregistrationday.org/.
Hoosiers can register at several events across Indiana and online at http://www.indianavoters.com/. Indiana residents with a valid Indiana driver's license or Indiana state-issued identification card will be able to use this tool to submit a new voter registration application, confirm they are registered, or to update an existing voter registration record if they've recently moved, turned 18, or changed their name.
Feeding Indiana's Hungry will register voters at the following events today:
Voter Registration Drive at Gleaners' Community Cupboard
10:00 AM-3:00 PM
Gleaners Food Bank of Indiana Community Cupboard 3737 Waldemere Ave Indianapolis, IN 46241
Voter Registration Drive at Food Finders Food Bank's JP Lisack Community Food Pantry
1:00 PM-5:00 PM
Food Finders Food Bank Food Resource & Education Center (FREC)
1204 Greenbush Street Lafayette, IN 47909
About National Voter Registration Day
Founded in 2012, National Voter Registration Day is designed to create an annual moment when the entire nation focuses on registering Americans to exercise their most basic right – the right to vote. More than two million Americans have registered to vote on this day since the inaugural National Voter Registration Day.