New data released today by the United States Department of Agriculture (USDA) reveals that 49 million people (including 6 million children) are food insecure in the United States.
In Indiana, 13.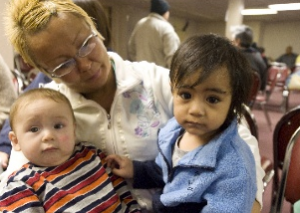 5 percent of Hoosier households remain food insecure – meaning roughly 1 in 7 households had difficulty at some time during the year in providing enough nutritious food for their family. Prevalence of food insecurity in Indiana has risen in recent USDA reports, particularly with the very low food insecure–those who report reduced food intake and disrupted eating patterns–rising to 6.3 percent in this report from 4.8 percent in the previous three year average, ranking Indiana 12th in the nation.  This updated data comes as the U.S. House of Representatives is expected to consider a bill this month with a $40 billion cut to federal food assistance.
"When it comes to food insecurity rates, any number is too high," said Emily Weikert Bryant, executive director of Feeding Indiana's Hungry. "Our Indiana network of food banks distributed 73.7 million pounds of food last year—about 61 million meals—to Hoosiers at risk of hunger.  But charity alone cannot solve the problem of hunger that we know exists in every county in our state.  It's because of numbers like these that we need to maintain strong federal and charitable food assistance to get enough food to those in need. This means strengthening and protecting federal nutrition programs."
The proposed $40 billion SNAP cut in the House bill would result in millions of Americans seeing their food assistance reduced or lost entirely, resulting in over 15 billion lost meals for struggling families over the next ten years according to Feeding America estimates. If divided evenly across Feeding America's national network of food banks, every food bank would have to provide an additional 7.5 million meals each year for the next ten years. These cuts would come on top of benefit reductions for all SNAP recipients that will take effect on November 1st and will average about $36 per month for a family of four.
"With so many of our neighbors, friends and family worrying about where the next meal is coming from, now is not the time to cut federal nutrition programs," said Bryant. "These programs are critical to meeting the current need. Many of our food banks are already stretched thin in the wake of the recession, and charity cannot make up for the billions of lost meals resulting from such cuts. We urge Congress to protect programs that help struggling families put food in their pantries."
###
About Feeding Indiana's Hungry
Feeding Indiana's Hungry, Inc. is the statewide association of Feeding America affiliated food banks.  Our eleven member food banks serve more than 1,700 agencies in all 92 counties, providing emergency food assistance to Hoosiers in need.
Feeding Indiana's Hungry, Inc. food banks statewide include:
Food Bank of Northwest Indiana, Gary
Food Bank of Northern Indiana, South Bend
Food Finders Food Bank, Inc., Lafayette
Community Harvest Food Bank of Northeast Indiana, Ft. Wayne
Second Harvest Food Bank of East Central Indiana, Inc., Muncie
Gleaners Food Bank of Indiana, Indianapolis
Terre Haute Catholic Charities Foodbank, Terre Haute
Hoosier Hills Food Bank, Bloomington
Tri-State Food Bank, Inc., Evansville
Dare to Care Food Bank, Louisville, KY
Freestore Foodbank, Cincinnati, OH
About Feeding America
Feeding America provides low-income individuals and families with the fuel to survive and even thrive. As the nation's leading domestic hunger-relief charity, our network members supply food to more than 37 million Americans each year, including 14 million children and 3 million seniors. Serving the entire United States, more than 200 member food banks support 61,000 agencies that address hunger in all of its forms. Feeding America also supports programs that improve food security among the people we serve; educates the public about the problem of hunger; and advocates for legislation that protects people from going hungry. Individuals, charities, businesses and government all have a role in ending hunger.