May is Old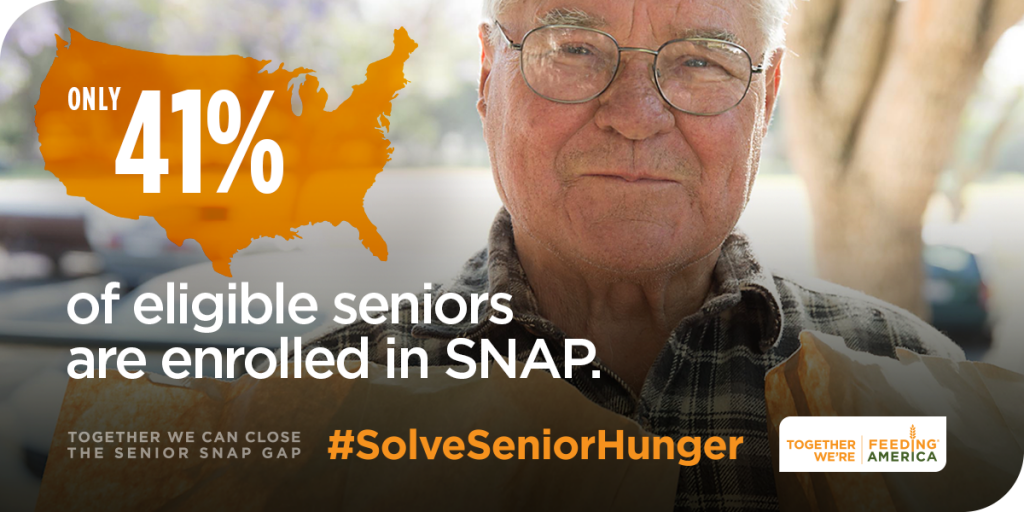 er Americans Month! The appreciation month for seniors is an annual event dating back to
1963 when President John F. Kennedy designated May as Senior Citizens Month. It was later renamed Older Americans Month (OAM) and every president since Kennedy has issued a formal proclamation that the entire nation pay tribute to older persons and their contributions to our communities.
The 2016 OAM theme is Blaze a Trail. The Administration for Community Living is raising awareness about important issues facing older adults and highlight the ways that older Americans are advocating for themselves, their peers and their communities.
The Feeding America nationwide network of food banks serves seven million seniors, the 1 in 12 seniors who face hunger in our country. Additionally, nearly 750,000 seniors volunteer each month at Feeding America network food pantries and meal programs across the country.
Food insecurity is particularly detrimental to seniors because of their unique nutritional needs related to aging and medical conditions. As such, we know seniors facing hunger are at increased risk for chronic health conditions like depression (60%), heart attack (53%), asthma (52%) and congestive heart failure (40%).
Through thoughtful and innovative programs designed to address the special and unique challenges that seniors face, the Feeding America network provides 563 million meals to seniors (age 60+) each year.
Charitable food assistance alone cannot solve senior hunger. The federal nutrition programs that reach seniors, including SNAP, the Commodity Supplemental Food Program (CSFP), and senior congregate and home-delivered meals are critical supports for low-income seniors facing hunger.
This year, Feeding America and partner organizations have come together to shine a light on the fact that seniors, more than any other age group, do not take advantage of SNAP benefits. Nationally, only 41 percent of seniors who are eligible to receive SNAP are actually enrolled in the program, compared to the larger population where 83 percent of individuals who are eligible are taking advantage of benefits. In Indiana it's even lower; only 33 percent of eligible seniors are participating in SNAP. During Older Americans Month 2016, we're joining together to help #SolveSeniorHunger by closing the Senior SNAP Gap. Senior SNAP gap state-level information is available thanks to the National Council on Aging (NCOA).
Together, we can give back to those who have given us so much of their time, hard work and wisdom. Join us in raising awareness for older Americans who struggle with hunger, so we can work toward solving senior hunger.
You can get involved in Older Americans Month in four key ways:
Join the #SolveSeniorHunger conversation by sharing stories of senior hunger
Share your state's Senior SNAP Gap data to spread the word
Tweet or message your Members of Congress to help close the Senior SNAP Gap
Take a Solve Senior Hunger selfie and post it to social media with #SolveSeniorHunger to show your support
Visit org/SolveSeniorHunger to learn more about the issue and find resources to help raise awareness.