Source: Indiana State Poultry Association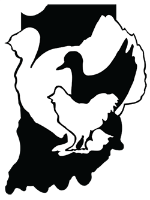 Lt. Governor Sue Ellsperman joined representatives of the Indiana State Poultry Association to celebrate the donation of over 73 tons (146,000 pounds) of poultry products to food banks across Indiana for distribution to hungry Hoosier families today.  This donation of high protein meat and eggs is always appreciated by the food pantries that feed the hungry throughout the state. The current donation alone provides hundreds of thousands of highly nutritious meals to Hoosier families.
Monday's donation is the continuation of a tradition that has endured for over 68 years. This is a tradition which marks the generosity of Indiana's poultry producers that the Indiana State Poultry Association and its members plan to continue for many years to come.
Although these producers donate this enormous amount annually for this event, it is only a small portion of the total amount that the poultry industry donates throughout the year.  Over the past twelve months, the Indiana poultry industry has donated over 96,000 dozen eggs, and 250 tons (551,000 pounds) of poultry meat and egg products to local food banks throughout Indiana.  Over the past ten years, the poultry industry has contributed more than a 1.2 pounds, about 600 tons of Indiana poultry products.
The poultry industry knows just how important it is to continually support food banks who sustain individuals and families during their times of need.  Food banks always require help keeping their shelves filled, especially during the holidays.
Members of the Indiana State Poultry Association produce over 95% of Indiana's chicken, turkey, duck and eggs. Indiana is the number one duck producing state, ranks third in egg production, third in turkey production, and raises millions of broiler chickens each year.  The Indiana poultry industry supports over 7,000 Hoosier jobs, contributing over $4.25 billion dollars annually to Indiana's economy.