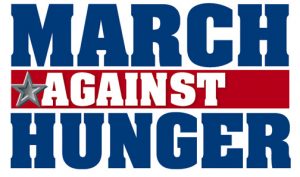 The Indiana State Bar Association Service Committee, in coordination with the Office of the Indiana Attorney General and Feeding Indiana's Hungry (FIsH), today announced the winners for this year's March Against Hunger food drive competition. The following winners from each of the six divisions will receive the "Attorney General's Cup" trophy at a local recognition event later this month:
Sole Proprietor – Steven Douglas Law Office, Ellettsville
($1,170 monetary donations)
Small Firm (2-11 persons) – Wilson Kehoe Winingham, Indianapolis
($1,180 monetary donations; 191 pounds of food)
Medium Firm (12-21 persons) – Wilkinson Goeller Modesitt Wilkinson & Drummy, Terre Haute
($2,445 monetary donations)
Large Firm (22-49 persons) – Burke Costanza & Carberry, Merrillville
($4,302.70 monetary donations; 257 pounds of food)
X-Large Firm (50+ persons) – Barnes & Thornburg, Indianapolis, Fort Wayne, South Bend & Elkhart offices
($13,670 monetary donations; 417 pounds of food)
Public/Non-Profit/Local Bar – Vanderburgh County Prosecutor's Office, Evansville
($3,000 monetary donations; 1,690 pounds of food)
"The lawyers in Indiana have always championed the March Against Hunger food drive competition and this year was no exception, raising more monetary donations and non-perishable food items than in previous years," ISBA President Jeff R. Hawkins said. "I know that helping others is an emotionally rewarding experience and I'm proud of my profession's participation."
This year's March Against Hunger food drive competition took place March 1-31 and included 39 participants statewide, generating 10,105 pounds of food and $50,228.20 in monetary donations. Since 2009, the food drive has generated a total of 62,459 pounds of food and $282,027.91 in monetary donations for Indiana food banks. Click here for a list of all 2015 participants.
"March Against Hunger is a great tradition that inspires a culture of serving and of giving back that helps put food on the table for many struggling families in our state," Indiana Attorney General Greg Zoeller said. "Thank you to the Indiana State Bar Association and law firms – big and small – that made this effort a priority and have helped grow this program year after year. Your generosity makes our Hoosier communities stronger."
"We are grateful for the participation and generosity of so many attorneys, as well as for the leadership of Attorney General Zoeller and the Indiana State Bar Association to raise awareness of hunger," FIsH Executive Director Emily Weikert Bryant said. "Our food banks are serving one in six Hoosiers who are at risk of hunger; that's more than one million people. The food and funds contributed though the March Against Hunger drive this year will provide much-needed assistance to those in our communities who continue to struggle with hunger."