Feeding Indiana's Hungry welcomes National Guard Assistance
Governor Eric Holcomb recently announced the deployment of Indiana National Guard members to food banks as part of the state's response to the ongoing COVID-19 pandemic. The guard will assist in helping feed seniors, families, and displaced workers.
Statewide, National Guard members will be deployed at nine of the 11 member food banks of Feeding Indiana's Hungry located within Indiana, which along with food banks located in Louisville, Kentucky, and Cincinnati, Ohio, provide food assistance to Hoosiers in all 92 counties. The National Guard members will assist Indiana's food banks in sorting and packing food into bags and boxes; distributing that food through "no-touch" food distributions and deliveries; and supporting other logistical needs to protect public health and safety while maintaining food bank operations.
"We welcome these National Guard members and thank them for their dedication and diligence in the days ahead," said Emily Weikert Bryant, Executive Director of Feeding Indiana's Hungry. "We are grateful to the Indiana National Guard, the Indiana Department of Homeland Security, and Indiana FSSA for their unwavering commitment to serving Hoosiers in partnership with our food banks."
Member food banks of Feeding Indiana's Hungry, all affiliates of Feeding America, have implemented key changes to address the influx of need while protecting staff, volunteers and clients by minimizing person-to-person contact. Member food banks, along with their more than 1,700 affiliated food pantries, soup kitchens, and emergency shelters, have transitioned to "no-touch" food distribution using drive-through and delivery models, pre-packaged bags and boxes of food, and "to-go" meals. This new distribution model requires more labor and logistics than normal operations.
"Food bank staff have been working long hours for weeks to better serve our clients and are fatigued," said Bryant. "Many volunteers, who are the heart of what we do, are unable to assist because they are at risk or concerned for what their exposure might mean for their families. Having consistent, able support from Indiana National Guard men and women helps on both accounts, providing a consistent labor force to work hand in hand with food bank staff as our members double and triple output in response to escalating food assistance needs for Hoosiers during the COVID-19 pandemic."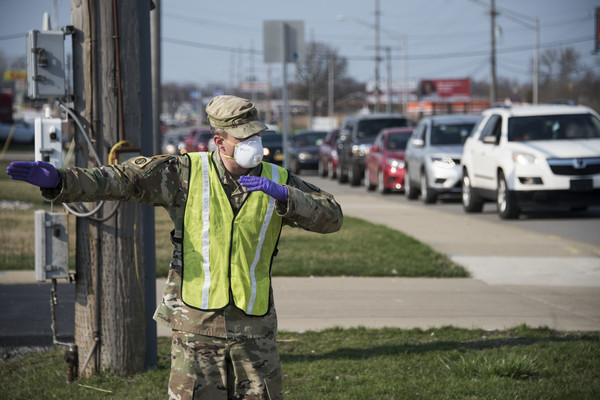 FSSA along with Feeding Indiana's Hungry requested and received approval for the deployment of National Guard members to the following food banks: Food Bank of Northwest Indiana, Merrillville; Food Bank of Northern Indiana, South Bend; Food Finders Food Bank, Lafayette; Community Harvest Food Bank of Northeast Indiana, Ft. Wayne; Second Harvest Food Bank of East Central Indiana, Muncie; Terre Haute Catholic Charities Foodbank, Terre Haute; Gleaners Food Bank of Indiana, Indianapolis; Hoosier Hills Food Bank, Bloomington; and Tri-State Food Bank, Evansville.
Freestore Foodbank in Cincinnati, OH, is currently receiving National Guard support from the Ohio National Guard. Dare to Care Food Bank in Louisville, KY, will be supported by the Kentucky National Guard.
Hoosiers wanting to donate to statewide COVID-19 hunger relief efforts can visit www.feedingamerica.org/covidIN
Hoosiers seeking help with food can access this map https://www.in.gov/fssa/dfr/5768.htm for more information.