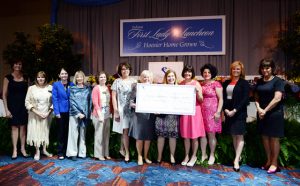 This year, $65,000 will go to Feed Indiana's Hungry; smaller grants will help other groups
By: Maureen C. Gilmer, IndyStar
Not long after her husband became governor of Indiana in 2013, Karen Pence quietly set about establishing a charity that would touch all 92 counties.
Part of the reason was because, as first lady, she was inundated with requests from groups seeking her support.
"I found that I just was saying no to all these fabulous causes," Pence said during an interview last week at the governor's residence.
She couldn't take them all on, but she could find a way to help as many as possible.
The Indiana First Lady's Charitable Foundation awarded $165,000 in grants to groups and individuals in 68 counties last year. All are working to help children and families in Indiana. The biggest chunk — $100,000 — went to Riley Hospital for Children's Art Therapy initiative.
Eighty-three smaller grants of $500 or $1,000 were awarded, and representatives were invited to awards ceremonies at the governor's residence throughout the year.
"It's pretty amazing that there are so many organizations in Indiana that just come alongside (people) and do what they can. It's always very uplifting," Pence said.
The money is raised through the annual First Lady's Luncheon, which attracted 600-plus people last week to the JW Marriott. Josh Kaufman, winner of "The Voice" last year, entertained, and women in the crowd received specially designed handbags made by The Farmer's Wife.
Each bag was stuffed with a First Lady's Cookbook, an Indiana-shaped cutting board, seed packets and note cards with an image of a watercolor painted by Pence herself. Some also received bottles of honey harvested from a beehive at the governor's residence.
This year, the foundation awarded a grant of $65,000 to Feeding Indiana's Hungry, which dovetails with the luncheon theme of Hoosier Home Grown, focusing on the state's rich food heritage. Feeding Indiana's Hungry supports 11 food banks in the state, which support food pantries in all counties.
Among those attending the luncheon were former first lady Judy O'Bannon, Lt. Gov. Sue Ellspermann, state treasurer Kelly Mitchell, state auditor Suzanne Crouch and Superintendent of Public Instruction Glenda Ritz.
Pence got the idea for a first lady's lunch from a friend who was active in planning a similar event in Washington, D.C., but Indiana's first lady wanted to take the money raised and give it to organizations and individuals doing good work around the state.
"I can't be your spokesperson or head your gala, but apply for a grant and we will at least do something to support your organization. That's how it all started," she said.
She remembers one little boy who attended a recent awards ceremony, during which groups helping children with cancer were recognized.
"This little guy here was about 8. He brought his jar … of beads and he said, 'Every time I got a treatment, I got a bead for my jar.' His jar was full. That was heartbreaking," she said.
She hands out her card promoting the grants to everyone she can because she wants to make sure every county is touched by the foundation.
"We started the foundation to shine a light on the people and organizations that are working every day to benefit our children and Hoosier families," she said. "We want to hit all 92 counties. We don't hold on to money; we give it all away."