First Lady Karen Pence announced Feeding Indiana's Hungry as this year's Indiana First Lady's Charitable Foundation major grant recipient to be awarded at the First Lady's Luncheon on April 23, 2015.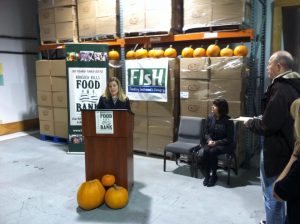 "With the holidays right around the corner, now is as critical time as ever to support organizations like Feeding Indiana's Hungry," said First Lady Karen Pence. "I'm thrilled to be working with this important Hoosier charity, and I'm so thankful for their work in the lives of Hoosiers across the state."
Feeding Indiana's Hungry is a Partner Statewide Association of Feeding America, and its 11 Feeding America-affiliated member food banks serve Hoosiers across the entire state. For more information about Feeding Indiana's Hungry, visit https://feedingindianashungry.org/.
"The First Lady has been a supporter of hunger relief efforts in Indiana for quite some time," said Emily Weikert Bryant, Executive Director of Feeding Indiana's Hungry. "We are grateful that she selected our organization as a beneficiary of her Foundation and look forward to her partnership to help our network serve more than 1.1 million Hoosiers who turn to us because they face the unthinkable circumstance of not knowing where their next meal will come."
Each year, the Foundation selects a different charity to highlight. Throughout the year there are opportunities for organizations to request a grant or monetary award on the Foundation's website. The Foundation is a 501 ( c )(3). The First Lady receives no compensation. Donations will be tax deductible.
Last year, the First Lady chose Riley Children's Hospital's Art Therapy Initiative as the Foundation's inaugural grant recipient.