Feeding Indiana's Hungry staff and board of directors are deeply saddened at the passing of Jane Avery,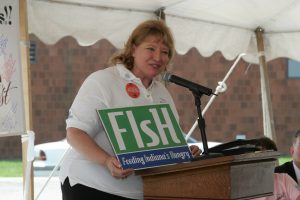 CEO of Community Harvest Food Bank of Northeast Indiana in Ft. Wayne. A tireless and passionate advocate for Indiana's food banks and the Hoosiers they serve, Avery's efforts more than a decade ago led to the founding of Feeding Indiana's Hungry, the state association of food banks.
Avery joined Community Harvest in July, 1996, where she quickly became known as an innovative leader in the food bank community. In 1999, Avery created the Community Cupboard as an on-site pantry at the food bank. Here she recreated the look and feel of a small town grocery store. Clients were given a grocery cart and permitted to select items favored by that family. The new style pantry was the first of its kind among national food banks and eventually other food banks mimicked what Avery first created in Fort Wayne. In 2005, Community Harvest was recognized as the food bank of the year by Second Harvest (now Feeding America), the nation's largest hunger relief organization.
Still leading the way in food banking, Avery recently created the first blanch and freeze operation among national food banks. Vegetables readily available in the summer will be preserved and then distributed on a year round basis from a facility to open later this summer.
Always thinking about the big picture, Avery researched a statewide food bank association as part of her studies in her Masters in Business Administration program. Shortly after completing the research project, her work attracted the attention of then gubernatorial candidate Mitch Daniels. Shortly after Governor Daniels took office, Avery worked with then Lt. Governor Becky Skillman and other Indiana food bank directors to create Feeding Indiana's Hungry. Avery since has served on the board of directors of the organization, often in leadership capacities, in addition to her responsibilities at Community Harvest Food Bank. Through her leadership, energy, and persistence, Feeding Indiana's Hungry steadily grew and evolved from a graduate school project to a trusted resource for policymakers and partner for agriculture and anti-hunger groups in the state.
"Jane Avery was a true crusader against hunger. It was impossible to talk to her without learning something about food banking, hunger, charity, or life, always leaving the conversation with a renewed sense of commitment to alleviating hunger. Her tenacity, dedication, and humor will be missed by anyone who has crossed her path. Our thoughts and prayers are with Jane's family and her extended family at Community Harvest," said Emily Weikert Bryant, executive director of Feeding Indiana's Hungry.