Feeding Indiana's Hungry is committed to enhancing the quality of life for our clients through access to safe, nutritious food and other vital necessities. Feeding Indiana's Hungry supports legislation and administrative policies which recognize the needs of the more than 1.1 million Hoosiers our food banks serve and increase the accessibility of nutritious food options to promote health, educational attainment, and workforce success for those in need.
State Advocacy
Continued support for Indiana producers and Indiana food banks.  $1.2 million for Indiana's food banks to purchase surplus or #2 produce from Hoosier farmers through a Farms to Food Banks program.
Continued support for the Sportsmen's Benevolence Fund. State funding for the Sportsmen's Benevolence Fund covers the cost of processing of donated deer from Hoosier hunters. This venison is donated to Indiana's food banks and pantries.
Removing barriers to public assistance enrollment and administration to ensure that programs that assist food bank clients are provided to those eligible for the assistance in the most efficient and cost effective way possible.
Ensuring adequate funding for health and human services and providing sufficient resources to protect Indiana's vulnerable populations.
Federal Advocacy
Feeding Indiana's Hungry supports federal advocacy priorities that focus on Child Nutrition Reauthorization, with the following policy recommendations consistent with those of Feeding America: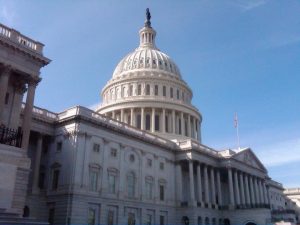 Strengthen States' Ability to Reach Kids During the Summer. Align the area eligibility requirement for summer feeding and educational programs to allow more learning programs to offer meals in the summer. Allow communities to adopt alternate program models in areas where children lack access to a program site to reach more kids, such as waiving the requirement that kids consume meals on site, allowing communities to send meals home with children, or giving families a grocery card to supplement their household food budget.
Streamline Regulations for Community Based Providers. Allow nonprofits to operate one child nutrition program year round by eliminating duplicative administrative processes and aligning inconsistent program requirements of the Child and Adult Care Food Program (CACFP) after school and the Summer Food Service Program (SFSP) during the summer.
Allow Flexibility to Better Reach Kids During Weekends. Waive the arbitrary on-site requirement to allow communities to innovate more effective ways to serve kids, such as sending needy children home from school with a backpack of nutritious meals or groceries on Friday afternoons.
Leverage Schools Beyond the School Day. Encourage schools to make their facilities available to local nonprofits as a shared community resource would allow communities to nourish more children when school is out. By opening up kitchens, libraries, or playgrounds to community nonprofits, many schools are important partners in feeding children after school, during the summer, and on weekends.
Strengthen Access and Quality in School Meal Programs and WIC. Continue to support schools as they strive to improve the nutritional quality of meals, providing support, equipment, and training to meet the guidelines set in the last child nutrition bill. Fewer than half of eligible children ages one to four participate in WIC, and we must ensure families' access to the important nutrition and health benefits that WIC provides.