Program Is Vital to Many Hoosiers
There's so much that's rewarding about working with Indiana's Feeding America affiliate food banks and I am privileged to have the chance to help Hoosiers struggling to get by. It's comforting to know that when people in our communities face hardship, they have somewhere to turn.
But the support our food banks provide can only go so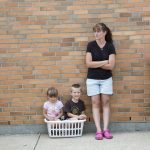 far. Many of the people we see each day also use the Supplemental Nutrition Assistance Program, or SNAP, to help put food on their families' tables.
SNAP has a major impact on families, seniors, and communities in our state and across the country. Here in Indiana, SNAP helped 672,000 people last year. That's one in ten Hoosiers who has been laid off, has experienced a serious illness, or who otherwise might need a little extra help to get by in hard times. Nationwide, nearly two-thirds of the people who SNAP helps are children, seniors, or people with disabilities.
New developments in Washington could put these Hoosiers at risk.
President Trump and Congress just enacted a deeply partisan, unpopular, and harmful tax bill that gives tax cuts to the wealthy and large corporations while ultimately raising taxes on millions of lower- and middle- income families and increasing the federal deficit. Now, to pay for it, some Republican leaders are saying they plan to make cuts and harmful changes to SNAP and other vital programs in the budget and Farm Bill.
As Congress works to finalize the federal budget and the Farm Bill, I hope our Indiana delegation understands how important SNAP is to our communities and fights to protect it. If SNAP is cut, food banks and pantries across the country simply won't be able to make up the difference. SNAP cuts will mean more Hoosiers confronting poverty and hunger. SNAP cuts wouldn't create jobs or raise anyone's wages – they would just make it harder for struggling families to put food on the table and get back on their feet.
SNAP benefits are extremely modest, in Indiana amounting to just $1.30 per person per meal, but they make a big difference for the people who receive them. When families use SNAP to cover part of their grocery bill every month, they have more take-home pay left for rent, utilities, and other bills. SNAP is also one of the best anti-poverty programs we have, keeping 224,000 Hoosiers out of poverty every year.
Protecting SNAP isn't just about reducing poverty now; it's also about a better future for our children. One in four of our nation's children uses SNAP to help get enough to eat, including 397,900 in Indiana. And research shows that people who received SNAP as young children are more likely to graduate from high school and less likely to suffer from costly long-term health problems like obesity and heart disease.
SNAP also has economic benefits that extend far beyond the people the program helps directly. In fact, 5,297 businesses, including local grocery stores and retailers, see $1.07 billion pumped into our economy every year thanks to the program. A stronger economy means more jobs, higher wages, and fewer people who need to come to food banks and pantries – which is a very good thing. Cutting SNAP benefits or imposing stricter requirements on participants isn't the way to get to these positive outcomes that we all want.
It frightens me to think that those working hard to make ends meet could face even more hardship because of decisions that our members of Congress will be making. By protecting SNAP and other critical programs, our elected officials can give our neighbors greater security and stability and a brighter future. I hope our Indiana Congressional delegation members will make the right choice.
Statement attributable to Emily Weikert Bryant, Executive Director of Feeding Indiana's Hungry and co-chair of the SNAP Works for Hoosiers campaign.