Largest, Most Comprehensive Analysis of Charitable Food Assistance in America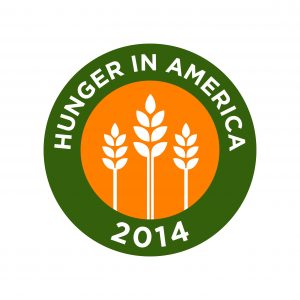 Reports at least 1.1 Million Hoosiers Served Annually
A new study by Feeding Indiana's Hungry and Feeding America shows that 1 in 6 Hoosiers, or an estimated 1.1 million people in Indiana turn to food pantries and meal service programs to feed themselves and their families. Of the households served by Indiana's food banks and programs, 43 percent include a child under 18 and 25 percent contain a senior aged 60 or over.Nationally,
Hunger in America 2014
found that more than 46.5 million people turn to agencies and programs of the Feeding America network of food banks every year. Feeding Indiana's Hungry is a Partner State Association of Feeding America, and all eleven member food banks are Feeding America members.The study documents household demographics and offers a snapshot of the people served by food banks in Indiana – their circumstances, the challenges they face and the choices they are forced to make living on extremely limited household incomes. It is also the first nationally-representative study that assesses the prevalence of past and current members of the U.S. military and adult students receiving charitable food assistance.
"The results of this study show us that the face of hunger is one we would recognize in every Hoosier community," said Emily Weikert Bryant, Executive Director of Feeding Indiana's Hungry. "Many of our neighbors who are seeking food assistance have jobs, raise families, work toward education and struggle with health problems, like all of us. Too often, our clients also have to make unimaginable choices to get enough food for their families. Everyone agrees that hunger is something no Hoosier should face. It is important to remember the critical work food banks do every day, and how much more we can do together to solve hunger across Indiana."
"The Hunger in America 2014 findings demonstrate the urgent need for all of us to address hunger in our communities," said Bob Aiken, CEO of Feeding America. "This data provides a factual basis for decisions about how we as a nation approach hunger relief and protect our most vulnerable citizens."
More information about Hunger in America 2014 can be found
here
.