AG partners with ISBA and Feeding Indiana's Hungry for 8th annual food drive
Indiana Attorney General Greg Zoeller is once again calling on the legal community to help feed Indiana's hungry by participating in the annual March Against Hunger.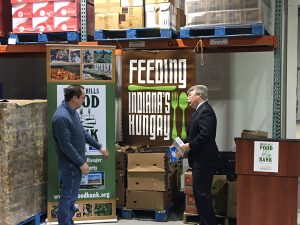 The Indiana Attorney General's Office is teaming up with the Indiana State Bar Association (ISBA)  and Feeding Indiana's Hungry for the eighth consecutive year to sponsor the friendly food drive competition to raise both non-perishable food and monetary donations for Indiana's 10 regional food banks. Thecompetition runs March 1-31.
"Lawyers are always called upon to help those in trouble or in need of legal services, and our March Against Hunger is a way for them to show how they serve the community in another visible, hands-on way," Zoeller said. "I challenge law firms big and small to embrace this opportunity and take an active role in reducing food insecurity in our state."
Zoeller visited Hoosier Hills Food Bank in Bloomington today to kick-off the month-long competition.
"Families and children in our neighborhoods face hunger every day and may not know how to get their next meal," Hoosier Hills Executive Director Julio Alonso said. "The need continues to grow, which is why it is so critical to involve the community in this challenge to help struggling Hoosiers."
Hoosier Hills member agencies serve an estimated 7,500 people each week and 25,800 individuals annually. They distribute food in several Indiana counties including Brown, Lawrence, Martin, Monroe, Orange and Owen counties.
Attorneys, law firms, local bar chapters and law schools statewide are all encouraged to join March Against Hunger and help put food on the tables of those struggling in Indiana.
"The March Against Hunger competition is the perfect opportunity to call on Indiana lawyers, who by their very nature want to serve, to help put food on the tables of those in need," ISBA President Carol M. Adinamis said.
Since 2009, March Against Hunger has generated 62,459 pounds of food and $282,027.91 in monetary donations for Indiana food banks.
"We are grateful for Attorney General Zoeller and the Indiana State Bar Association's ongoing commitment to helping the 1.1 million Hoosiers at risk of hunger," said Emily Weikert Bryant, Executive Director of Feeding Indiana's Hungry. "This competition is a great opportunity for attorneys to form lasting partnerships with regional food banks and pantries. Hunger touches every Hoosier county, year round. Volunteers and donors make a tremendous impact on the lives of our clients."
The winner of March Against Hunger in each of the following categories will be presented with the coveted "Attorney General's Cup" trophy:
Solo Proprietor (1 lawyer)
Small Firm (2-11 lawyers)
Medium Firm (12-21 lawyers)
Large Firm (22-49 lawyers)
X-Large Firm (50+ lawyers)
Public/Non-Profit/Local Bar
Law Schools
For law firms with multiple offices participating in the competition, the trophy will be presented to the office that collects the most in pounds per attorney (monetary donations + non-perishable food donations divided by the number of attorneys in the office). Every dollar raised will count as 5 pounds.
In addition to the "Attorney General's Cup" trophy, the firm in each category that collects the most non-perishable food donations will receive a certificate.
Law firms can sign up to participate in March Against Hunger on the Indiana State Bar Association's website here.
Press release from the Office of Indiana Attorney General Greg Zoeller