The Indiana State Bar Association (ISBA) has teamed up with the Office of the Indiana Attorney General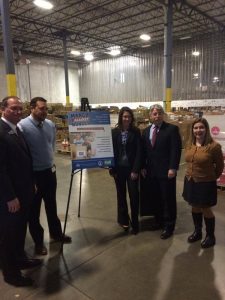 and Feeding Indiana's Hungry (FIsH) for its seventh consecutive year to sponsor March Against Hunger, a friendly food drive competition to raise both non-perishable food and monetary donations for Indiana's 11 regional food banks March 1-31.
The competition is an opportunity for attorneys statewide to help put food on the tables of those struggling in our state. Since 2009, the March Against Hunger food drive has generated 52,354 pounds of food and $231,799.00 in monetary donations for Indiana food banks.
Firms can sign up any time during the collection period. Click here to register. For questions, contact Catheryne Pully at cpully@inbar.org or 800.266.2581. 
A special thanks to our 2015 participants:
Sole Proprietor
The Law Office of Bryan K. Bullock
Steven Douglas Law Office, PC
Adedoyin Gomih Law, LLC
Small Firm (2-11 persons)
Wilson Kehoe Winingham
Roberge Law
Hensley Legal Group, PC
Delk McNally, LLP
Jones Obenchain, LLP
Lewis and Wilkins, LLP
Richard A. Mann, PC
Robert John & Associates, PC
Wagner Reese, LLP
O'Neill McFadden & Willett
Medium Firm (12-21 persons)
Tuesley Hall Konopa, LLP
Hoover Hull Turner LLP
Haller & Colvin, PC
Wilkinson Goeller Modesitt Wilkinson & Drummy
Burt Blee Dixon Sutton & Bloom, LLP
Tilford Dobbins & Schmidt, PLLC
Eichhorn & Eichhorn, LLP
Large Firm (22-49 persons)
Benesch Friedlander Coplan & Aronoff
Faegre Baker Daniels (South Bend)
Lewis Kappes PC
Kopka Pinkus Dolin PC
Church Church Hittle & Antrim (Fishers)
Church Church Hittle & Antrim (Merrillville)
Church Church Hittle & Antrim (Tipton)
Kightlinger & Gray, LLP (Indianapolis)
Kightlinger & Gray, LLP (Evansville)
Kightlinger & Gray, LLP (Merrillville)
Kightlinger & Gray, LLP (New Albany)
Burke Costanza & Carberry LLP
X-Large Firm (50+ persons)
Lewis Wagner, LLP
Faegre Baker Daniels (Indianapolis)
Faegre Baker Daniels (Fort Wayne)
Barnes & Thornburg LLP (South Bend)
Barnes & Thornburg LLP (Fort Wayne)
Barnes & Thornburg LLP (Elkhart)
Ice Miller LLP
Public/Non-Profit/Local Bar
Indiana State Bar Association
Office of the Indiana Attorney General
Indiana State Senate
Marion County Prosecutor's Office
Vanderburgh County Prosecutor's Office
Indianapolis Legal Aid Society, Inc.
Allen County Bar Association
Lake County Bar Association
Hendricks County Bar Association
Northeast Indiana Paralegal Association, Inc.
Women Lawyers Association