Food Bank of Northwest Indiana, Inc., Merrillville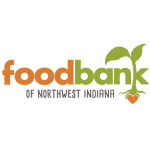 The Food Bank of Northwest Indiana was founded in 1982. It was originally a barn, but has grown into a facility that acquires, stores and distributes 4.7 million pounds of food throughout Lake and Porter Counties. It is a USDA approved, primary distributor of food to local pantries, shelters, day care centers, and soup kitchens. The Food Bank is an affiliate of Feeding America, the nation's largest food bank network. For more than three decades, the Food Bank has served as a link for food relief to families, the elderly, children and other individuals.
But, the vision of the Food Bank expands beyond providing assistance for this basic need to include a number of initiatives. We are developing space for community resource services such as nutrition education, job training, WIC and SNAP programming. We also are increasing the total amount and nutritional value of food and grocery products distributed each year.
The Food Bank is training and equipping community agencies to engage in aggressive referral programs that will link individuals to support services that will address underlying causes of hunger such as unemployment, underemployment, lack of education and transportation. We provide and promote programs and services that will help educate and empower individuals to make healthy eating choices for themselves and their families.
Finally, we are focused on improving the quality and level of service provided by each community agency in the Food Bank's network. The Food Bank of Northwest Indiana strives to reduce the impact of hunger through programs of advocacy, nutrition education and faith based partnerships.
Food Bank of Northwest Indiana, Inc.
6490 Broadway, Merrillville
219-980-1777
www.foodbanknwi.org
Community Harvest Food Bank of Northeast Indiana, Inc., Fort Wayne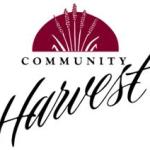 Community Harvest Food Bank of Northeast Indiana, Inc. was incorporated in 1983 in the wake of major factory shut-downs. A group of community leaders and concerned individuals adopted a food bank model as a coordinated approach to area hunger relief. In nearly 30 years of operation, Community Harvest has distributed over 150 million pounds of donated food and utilized more than 350,000 volunteer hours in area hunger relief.
The CHFB mission is to alleviate hunger through the full use of donated food and other resources and to increase public awareness of and involvement in solutions to hunger. Community Harvest has taken the lead to provide direct food assistance to those groups most vulnerable to hunger; specifically children, older adults, female heads of household, and working poor families. Each week, Community Harvest provides food assistance to over 21,100 unduplicated children and adults throughout Northeast Indiana including: Adams, Allen, DeKalb, Huntington, LaGrange, Noble, Steuben, Wells, and Whitley counties.
CHFB distributes food and other grocery products through our network of over 460 member agencies and through its own direct service programs: SeniorPak, Kids Cafe, Kids BackPack, Community Cupboard, and Farm Wagon. CHFB also provides Crisis Assistance food support to individuals and families who have suffered a man-made or natural disaster as well as being a core community resource in the area FEMA plan.  Feeding America highlighted Community Harvest's original program, Community Cupboard, as an innovative response to the needs of the working poor. In 2005 Community Harvest Food Bank of Northeast Indiana, Inc. was recognized the "Food Bank of The Year" by America's Second Harvest – The Nation's Food Bank Network, now known as Feeding America. Community Harvest is the smallest food bank in the country to have ever achieved that distinction.
Community Harvest Food Bank of Northeast Indiana, Inc.
999 E. Tillman Road
Fort Wayne, IN 46816
260.447.3696
www.communityharvest.org
Food Finders Food Bank, Inc., Lafayette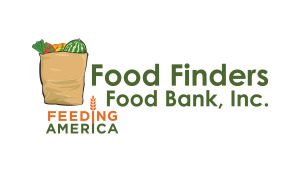 Food Finders' mission is to feed the hungry in Mid-North Indiana by locating and distributing food to agencies that operate food pantries, soup kitchens and shelters. A collaboration of labor unions, churches, non-profit organizations and dedicated citizens of Greater Lafayette founded Food Finders in 1981. In 2008 we distributed nearly 3,000,000 pounds of food or 2,255,639 meals.
We obtain food from a variety of sources. Food drives held throughout the year provide a portion of our food. We pick up food, that might otherwise be wasted, from grocery stores in our 16 county area. We also gather food from restaurants and food manufacturers. All of the food is sorted, stored, and distributed to agencies that feed needy Hoosiers.
Food Finders coordinates the Back Pack Program. This program sends backpacks of food home for the weekend with children who are in the free or reduced lunch program. We also distribute perishable food through a mobile pantry and the food bank stores and delivers commodities provided by the USDA.
Food Finders is a member of Feeding America, a national network of food banks.
Food Finders Food Bank
1204 Greenbush Street
Lafayette, IN 47904
765.471.0062
http://www.food-finders.org/
Hoosier Hills Food Bank, Bloomington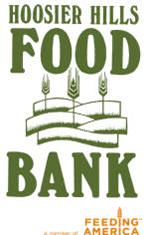 Hoosier Hills Food Bank has been feeding families through a network of outreach charities in Bloomington, Indiana, and five surrounding counties since 1983. We have essentially just one program: the daily collection and distribution of donated food to nonprofit organizations with feeding programs that benefit ill and needy people, and children under age 18. Eight staff people and hundreds of food bank volunteers rescue, sort, and repackage food from 70 regular food donors each week. Grocery stores, food distributors, food service establishments and restaurants donate excess, damaged, or unmarketable food that might be wasted otherwise. Our prepared food rescue project, Meal Share, and the program's 100 volunteers, have collected and repackaged almost 300,000 meals for frozen distribution to date. Community organizations, school classrooms, and local churches help keep warehouse inventory stocked through over 100 annual food drives. Collectively our charitable member agencies are feeding over 20,000 individuals through a total of 84 outreach charities, each providing free food obtained from the food bank every month. Our own surveys show that 46% of the food Hoosier Hills Food Bank collects, sorts and distributes is being eaten by local children in these nonprofit organizations. Our primary clientele are the agencies we work for, but the ultimate recipient is someone living here in our community, someone needing free food assistance to have adequate and nutritious meals. Hoosier Hills strives to extend services at extremely low program cost; last year, one dollar allowed us to process almost six pounds of food, enough for nearly 5 meals.
Hoosier Hills Food Bank
2333 W Industrial Park Dr.
Bloomington IN 47404
812.334.8374
www.hhfoodbank.org
Second Harvest Food Bank of East Central Indiana, Muncie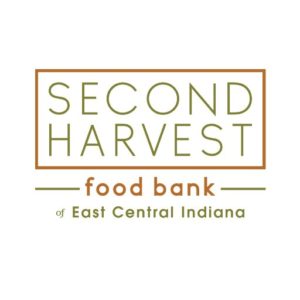 Second Harvest Food Bank of East Central Indiana is a member of Feeding America, the Nation's Food Bank Network. Incorporated in 1983, Second Harvest has seen an average 15% growth each year since 1985 to a current distribution of more than 5 million pounds of food and grocery products to people in need in our eight county region.
Our mission is to provide a coordinated approach to ending hunger in East Central Indiana. Our goal is for all people in this region to be free from hunger. We measure progress as communities demonstrate that they value ending hunger; community members have knowledge and skills to access services; the most vulnerable people in the region have resources to be free from hunger, and public policy values ending hunger.
Our warehouse in Muncie receives dry, refrigerated and frozen food from throughout the country. This product is delivered to 120 pantries and meal programs in Blackford, Delaware, Grant, Henry, Jay, Madison, Randolph and Wabash counties. These organizations provide thousands of food orders and meals to an average of 63,900 people in need each year.
Second Harvest operates Kids Café and the BackPack Program throughout the region and sponsors the federal Summer Food Program for children. We are the region's distributor of federal commodities and we have a small purchase program for the agencies we serve. Our Tailgate Program delivers over a million pounds of food, mostly fresh produce, directly to nearly 3,000 households in the region each month. We rely heavily on volunteers and logged more than 700 volunteer hours each month.
Second Harvest Food Bank of East Central Indiana, Inc.
6621 N Old SR 3, Muncie, IN 47303
765-287-2061
www.curehunger.org
Food Bank of Northern Indiana, South Bend

Since 1993, the Food Bank of Northern Indiana has worked in partnership with the community to feed the hungry, increase awareness of the effects of hungry and lead programs designed to alleviate hunger. In northern Indiana, 18.4% of the population is hunger insecure.
The Food Bank of Northern Indiana is a distribution facility for millions of pounds of food and other products. Partnering with local and national manufacturers, wholesalers and retailers, food growers and packers, food brokers, and food drives conducted by individuals, businesses and organizations to glean food – food that may have been damaged during packaging, is near its expiration date, an abundance during harvest or collected from one's own cupboards – the Food Bank of Northern Indiana distributes these items to its 185 member agencies who distribute these items to their clients.
The Food Bank of Northern Indiana serves six counties – Elkhart, Kosciusko, LaPorte, Marshall, Starke and St. Joseph Counties. In its first year of operation, the Food Bank distributed 6,800 pounds of food to 29 agencies. In 2010, the Food Bank of Northern Indiana distributed a record five million pounds of food and served nearly one-quarter million people. Our vision is to improve the health and quality of life in northern Indiana through a reduction of those with hunger insecurity in northern Indiana.
On-site Food Pantry: Community Food Pantry of St. Joseph County.
Hours: Monday, Tuesday, Wednesday and Friday: 9 a.m. – 2:30 p.m.; Thursday: Noon – 6 p.m. Closed holidays. Clients may shop once every 30 days.
Food Bank of Northern Indiana
702 S. Chapin Street
South Bend, IN 46601
(574) 232-9986 or (800) 879-7040
www.feedindiana.org
Terre Haute Catholic Charities Foodbank, Terre Haute

Terre Haute Catholic Charities Foodbank was established in 1980 to feed hungry individuals in Clay, Greene, Knox, Parke, Sullivan, Vermillion, and Vigo counties through a network of emergency food distribution member agencies and engage our community in the fight to end hunger. In 2018, 38,570 people living in our communities were food insecure – they lacked access to enough nutritious food to lead a healthy, active lifestyle. With the opening of our new warehouse and distribution center in 2019, we provide the equivalent of nearly 4 million meals to individuals facing hunger each year.
Terre Haute Catholic Charities Foodbank operates a Kids Café at Ryves Youth Center and support BackPack Programs throughout the region. Our Mobile Pantry Program operates throughout our service area to provide emergency food assistance to rural communities and those with limited or no access to traditional food pantries. With a limited staff, we rely on volunteers to help us sort, stock and distribute food.
Terre Haute Catholic Charities Foodbank
430 N 14th 1/2 St.
Terre Haute, IN 47807
(812) 232-1447, Opt. 2
www.THCCFoodbank.org
Gleaners Food Bank of Indiana, Indianapolis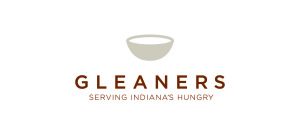 Gleaners Food Bank of Indiana was founded in 1980 by concerned citizens who had a simple yet profound vision: No one in Indiana should suffer from hunger and malnutrition. Gleaners' mission is to lead the fight against hunger in central and southeast Indiana by collecting, storing, and distributing food to those in need. Gleaners distributes food to hungry Hoosiers through a network of more than 260 partner agencies, including emergency food pantries, soup kitchens, and shelters.

Gleaners Food Bank of Indiana
3737 Waldemere Ave.
Indianapolis, IN 46241
317-925-0191
www.gleaners.org
Tri-State Food Bank, Inc., Evansville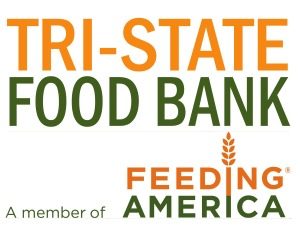 Our primary service as a food bank is to collect usable donated foods and disperse them to non-profit feeding organizations.
Established in 1982 by a forward-thinking group of people chaired by Henry Campbell, Tri-State Food Bank made connections with Gleaners Food Bank in Indianapolis and Dare To Care Food Bank in Louisville. With a borrowed pick-up truck, they began a simple operation serving seven nonprofit agencies in Evansville, IN. The warehouse on Virginia Street was purchased in 1983 and that year 150,158 pounds of food were dispersed to a growing number of member agencies.
Today we disburse over 4 million pounds of food each year to over 250 feeding organizations in a 33-county service area of the tri-state. We provide food to 9 counties in Indiana, 16 in southern Illinois, and 8 in Kentucky. The food goes to food pantries, soup kitchens, senior citizen nutrition sites, camps for handicapped or under-privileged children, and children's homes. Tri-State Food Bank also works with agencies committed to serving those in need when a disaster occurs.
Working in partnership with local agencies and Youth First, Tri-State Food Bank provides back-packs filled with food for extreme at-risk kids so they will have food over the week end.
Through collaboration with local charities, our Kids Cafe program provides nutritious meals in conjunction with enrichment programs for at-risk kids. Our Kids Cafe site operates year-round. This helps fill the gap for many children who rely on free lunches during the school year.
Tri-State Food Bank
2504 Lynch Road
Evansville, IN 47711
(812) 425-0775
www.tristatefoodbank.org
Dare to Care Food Bank, Louisville, Kentucky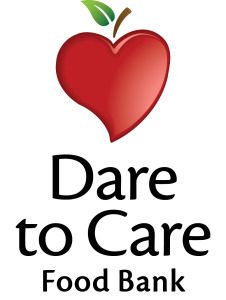 The Kentuckiana community created Dare To Care Food Bank in 1971 in response to the death of Bobby Ellis, a nine-year Louisville boy who died of malnutrition. Beginning in the basement of St. John Catholic Church in Louisville, Dare To Care Food Bank today serves a 13 county area in Indiana and Kentucky. Our Indiana counties include Harrison, Floyd, Clark, Crawford, and Washington.
Dare to Care Food Bank works to achieve its vision of a Hunger Free Kentuckiana by partnering with over 300 local community partners, including Boys and Girls Clubs, the Salvation Army, churches and community centers. Dare To Care Food Bank distributes over 13 million pounds of food – including over 3 million pounds of fresh produce – to 190,000 individuals each year.
Some of our programs include:
Kids' Cafe – Serving over 100,000 hot, nutritious meals to children;
Backpack Buddy– Providing nutritious weekend meals to over 1000 at-risk schoolchildren;
Patrol Against Hunger – Partnering with the Louisville Metro Police Department to deliver almost 2000 food boxes to homebound seniors; and
Mobile Pantry – Delivering almost one million pounds of nutritious food directly into underserved neighborhoods.
Dare To Care Food Bank
5803 Fern Valley Road
Louisville, KY 40228
502-966-3821
www.daretocare.org
Freestore Foodbank, Cincinnati, Ohio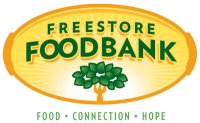 The Freestore Foodbank is dedicated to providing food and services, creating stability and furthering self-reliance for people in crisis. Founded in 1971, the Freestore serves 20 counties in Ohio, Kentucky, and Indiana, including Dearborn, Ohio, and Switzerland Counties. The Freestore Foodbank provides 23 million meals annually through 350 community partner agencies, including food pantries, soup kitchens, shelters, community centers, program sites, senior centers and daycare facilities. By providing emergency food distribution, the Freestore Foodbank responds to the issue of poverty and food insecurity in our community and provides an array of services (emergency clothing, housing services, SNAP assistance, Medicaid outreach and others) aimed at creating self-reliance.
Some of the Freestore's programs include:
Cincinnati COOKS! – A free, 10-week culinary training program that prepares low income, at-risk individuals for employment in the food service industry.
Power Pack – Bags of nutritious food given to students each Friday during the school year to ensure they have something to eat on the weekends.
Kids Cafe – Provides free, nutritious meals to children at the end of the school day so that they aren't going hungry in the evenings.
The Freestore Foodbank
1141 Central Parkway
Cincinnati, Ohio 45202
(513) 482-4500
www.freestorefoodbank.org