Locate an Emergency Food Provider Near You
Indiana 211 Partnership is a nonprofit organizatio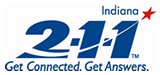 n providing a seamless network of information and referral, enabling anyone in Indiana to call 2-1-1 and receive quick referrals for human services.   Call 2-1-1 and ask for emergency food assistance.
Indiana's Emergency Food Resource Network, a program of the Department of Foods and Nutrition at Purdue University and the Cooperative Extension Service, receives a grant from the USDA to provide an online directory of emergency food assistance programs across Indiana.
Or you can contact Feeding Indiana's Hungry member food banks for assistance in locating a pantry or provider near to you.