Executive Director, Emily Weikert Bryant
Emily Weikert Bryant is the Executive Director of Feeding Indiana's Hungry, the network of Feeding America food banks in the state of Indiana.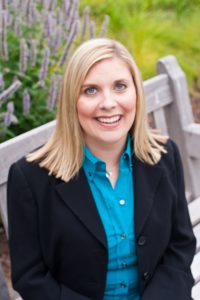 Prior to joining the organization in 2009, Ms. Bryant gained ten years of experience in various aspects of the state legislative process, workings of various state offices, and state level policy work.   She spent nine legislative sessions between 2002 and 2009 providing policy development and legal counsel to the Indiana Senate Minority Caucus.  She has also worked in Indiana state government, at the former Indiana Department of Commerce and at several agencies while serving as an Indiana Governor's Fellow.
Ms. Bryant holds a Bachelor's degree with honors from the University of Evansville in History and Political Science, and a Juris Doctorate from Indiana University. She hails from Jasper, Indiana, and currently lives in Indianapolis with her husband, daughter and son.
Feeding Indiana's Hungry Board Members
Stan Siegwald, President
Dare to Care Food Bank
John Etling, Vice President
Terre Haute Catholic Charities Foodbank
Katy Bunder,  Treasurer
Food Finders Food Bank, Inc.
Julio Alonso, Secretary
Hoosier Hills Food Bank
Jane Avery
Community Harvest Food Bank of Northeast Indiana, Inc.
Glenn Roberts
Tri-State Food Bank
Cindy Hubert
Gleaners Food Bank of Indiana, Inc.
Tim Kean
Second Harvest Food Bank of East Central Indiana, Inc.
Milt Lee
Food Bank of Northern Indiana
Arleen Peterson
Food Bank of Northwest Indiana, Inc.
Kurt Reiber
Freestore Foodbank